Pilot Classroom for Technology Upgrade is now Complete
Pilot Classroom for Technology Upgrade is now Complete
---
Technology Upgrade in Centennial 192
---
The audio/visual upgrade has been completed in Centennial 192. A new Crestron switching system has been installed and the room is now equipped with a blu-ray player, ADA lectern that is height adjustable, an easy to use touch-panel,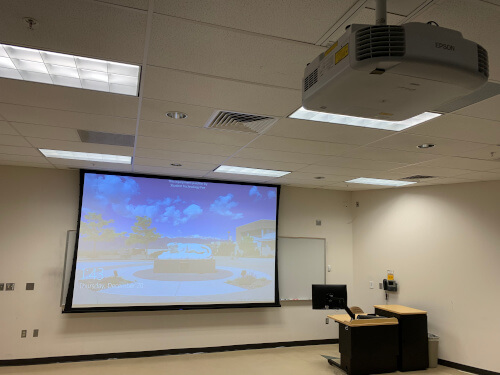 and a wireless presentation device - for the mobile use of tablets, phones, and laptops from around the room. In addition, an output for listening devices for ADA purposes was also installed.
An exciting feature of this room is the wireless head-worn microphone, versus the traditional lapel-worn microphones. This microphone will allow the presenter to be able to reach the back of the room without straining their voice, and the audience will hear the same voice consistently. The microphone is new to the campus; the Academic Support team welcomes feedback on this headset. 
The intent is to install all of the above features in all OIT supported rooms, and making it the standard across campus.  The OIT Academic Support team thanks everyone for their patience during the installation and construction. Lessons learned from this particular upgrade will be applied to future classroom upgrades. The team will continue working on making these installs less disruptive and a positive experience for all those involved.